The Academy of Decoration and Design
"I want to inspire and teach people how to create beautiful spaces for them, their families and maybe even their clients to enjoy. "
 - Kellie Richardson
Are you ready to....
Make your home look beautiful, but you're not quite sure how?
Get the best out of your pieces at home without spending a cent?
Discover and show off your skills in interior design?
Learn how to get the best functionality and flow throughout your home?
Learn the secrets, tricks and tips of Interior Design?
Experience learning onsite from a Director of Interior Design?
Practice your designs using contemporary stock from our home staging warehouse?
Enjoy a weekly night out, having loads of fun making new friends with like minded people?
Enquire now
Book now to join our class for Term 3, 2023
Starts July 12 - (Late comers accepted) All ages, all backgrounds welcome.
Contact us for more information here.
Secure your spot and Enrol Now!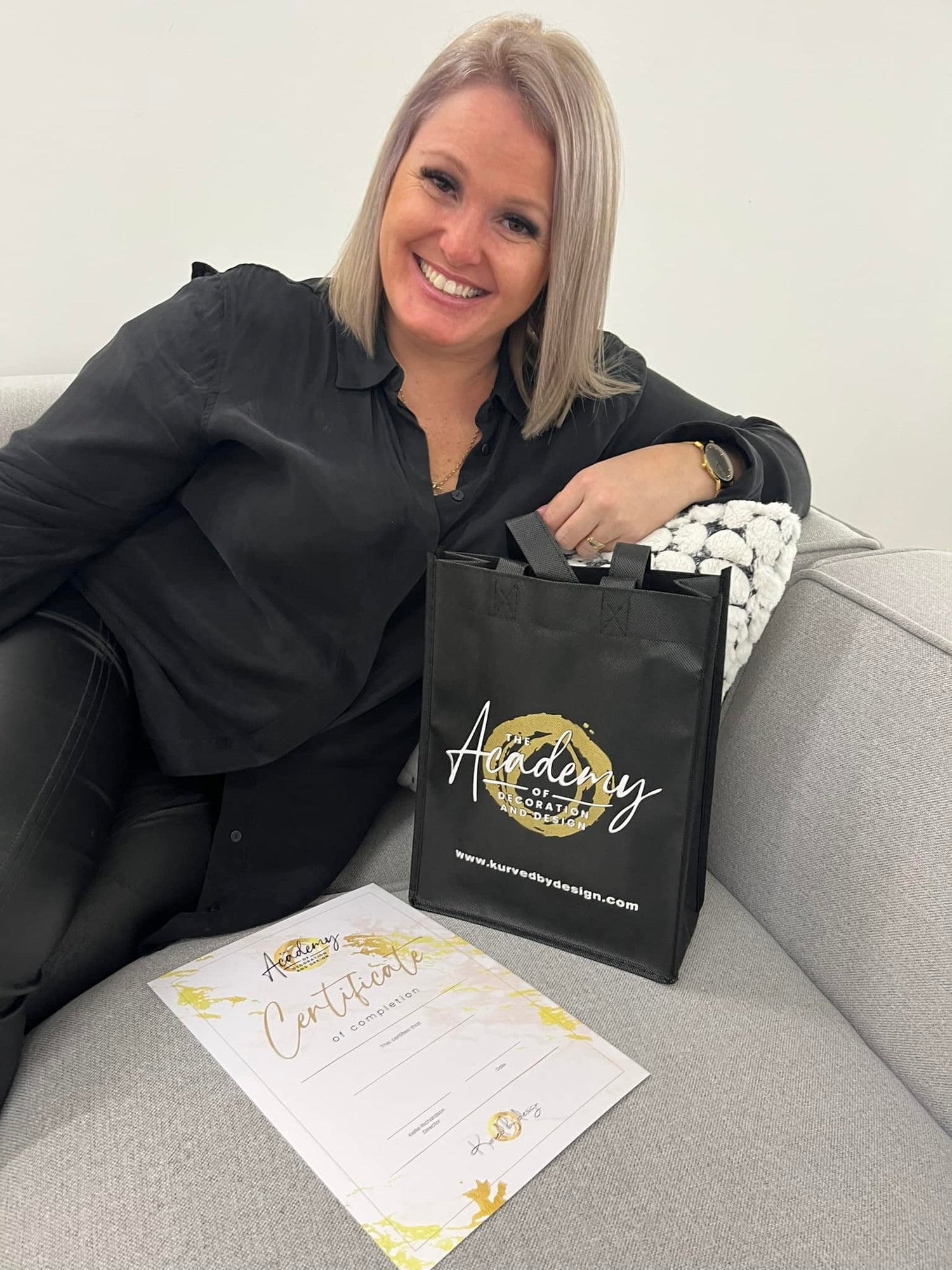 The Academy of Decoration and Design is the teaching arm of Kurved by Design.
Director, Kellie Richardson has designed two separate courses and runs them in house at Kurved by Design.
Kellie says, "I have loved building Kurved by Design into a successfull business and many people have asked me to share my knowledge over the years. Now, through the Academy of Decoration and Design, I am able to help others follow their passion for interior design. I share all my secret tips with my students so they can create amazing homes.
My 3 hour masterclass is for anyone selling a property or preparing one for sale. These students learn how to make properties shine and achieve the highest possible price.
Those that enrol in my longer course, 'Creating my Style' become a close team, as we do a deep dive through all aspects of interior design. I thoroughly enjoy working with and getting to know my students over this 8 week course.
Both courses are really fun and unique. They are designed to suit anyone with an interest in interior design. Our approach is hands on learning. Sessions are held in person, in our beautiful showroom. We provide students with full access to our property staging warehouse so they can bring their designs to life!
My students walk away with the confidence they need to take on any space. Afterwards, we stay in touch and celebrate our successes."
Questions? Contact us now!
Courses
Creating my Style

This 8 week course will develop your own personal style! You willl learn about all types of interior design and the elements that combine to create them. You will see where your personal style fits into these established formats and how to create your own vision. Full access to our warehouse will be provided to you to practice your styling under the guidance of Senior Interior Designers.

Students attend weekly classes on Wednesday evenings in Kurved by Design's Showroom.

This course is based on hands on learning.

This 8-week course runs each term from 6pm to 9pm on Wednesdays. Cost: $900 (Payment plan available upon request)

Masterclass: Preparing a Home for Sale

This 3 hour masterclass provides a comprehensive overview of everything you need to do to make your property shine.

It is designed for anyone involved in preparing a home for sale. Topics include: what buyers are looking for, what changes best increase sale prices, harmonious flow and best use of spaces, presentation must haves for inspections and photoshoots. It also includes the opportunity to create practice rooms using our warehouse stock.

This course is held on a weeknight from 6pm to 9pm. Dates by arrangement. Cost $300.